Long story short
The marketing team hired an external agency to create an Assessment Tool, by that time Oracle was immersed in a UX / branding Transformation with the creation of the new Redwood Design System, so the time to align to it was inevitable, initially the marketing team asked us to provide "just consultation" to align the visuals to Redwood. After we started to look at it we made our visual recommendations but also recommend to make improvements to the experience… 2 days later we started almost from scratch and teamed up with the agency for 3 weeks to improve not only the visuals but the overall experience. The result was that not only ERP team use this tool, but other teams like CX, HCM, and SCM teams also adopted this tool in their campaigns too!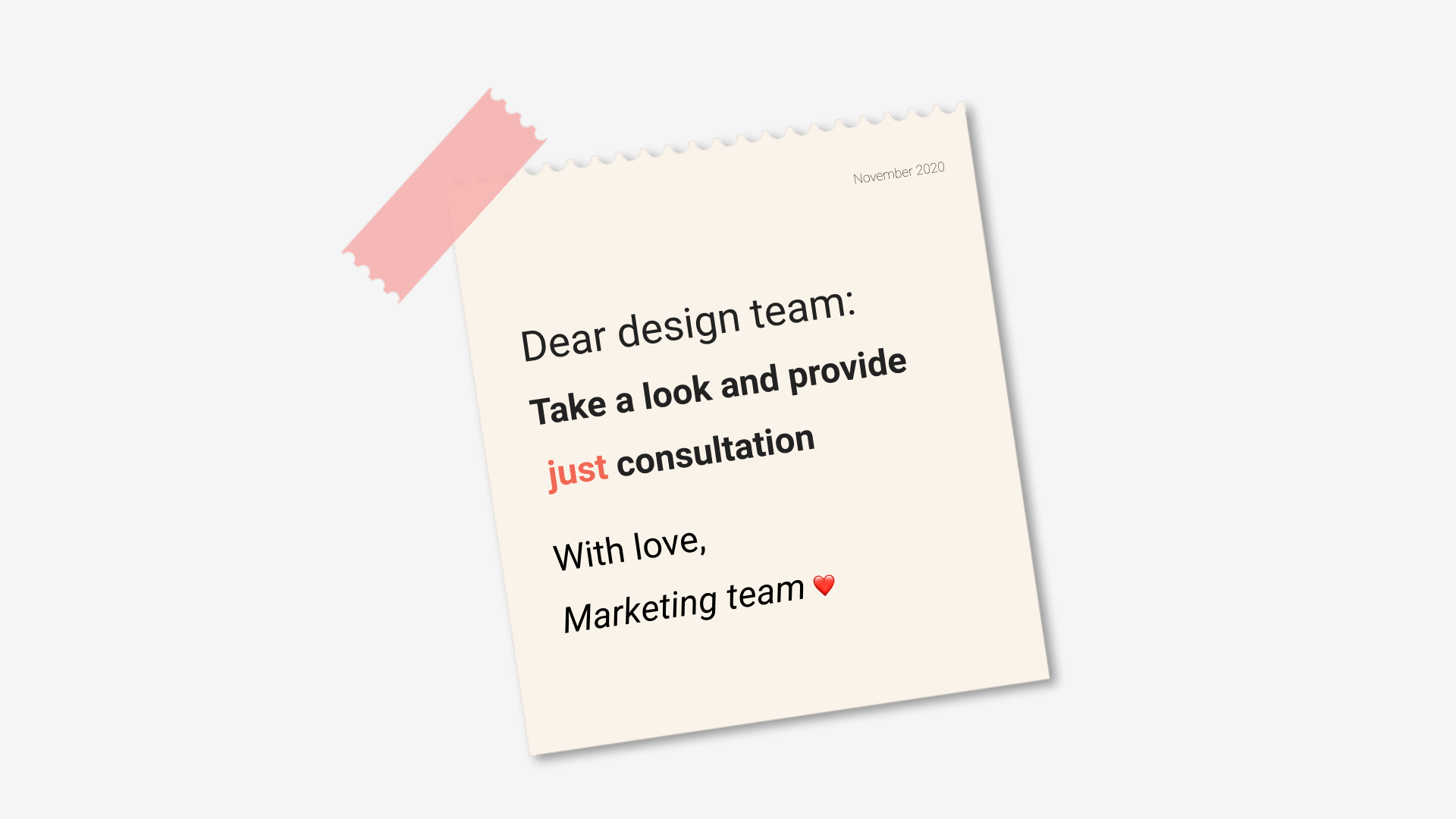 What we did
We embarked on a UX project to develop a versatile tool tailored for the ERP Oracle Marketing Team to enhance their marketing campaigns.
The primary marketing objective was to generate curiosity and cultivate active participation within specific target audiences,
the tool was meticulously crafted not only to captivate the users it was strategically built to guide users toward a deeper understanding of Oracle's products and services.
Additionally, the tool was designed to serve as a lead generation mechanism for Oracle's sales team, providing them with valuable insights into potential customers, this dual purpose allowed us to not only enhance user engagement but also contribute to the growth of Oracle's sales pipeline, all while providing the marketing team with valuable insights for refining their strategies.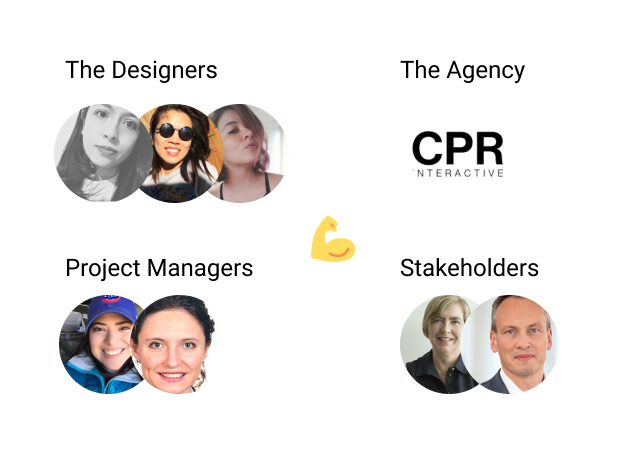 My Role in the Team
3 Oracle designers with diverse backgrounds collaborated on this project: one specializing in marketing, another in product design, and myself, focused on UX/visual aspects. While my main contribution centered around visuals, I also played a role in shaping interactions, graphics, and the presentation of results. Additionally, the project involved dedicated PM and marketing stakeholders who provided essential insights about the campaign and the information to be featured within the Assessment Tool.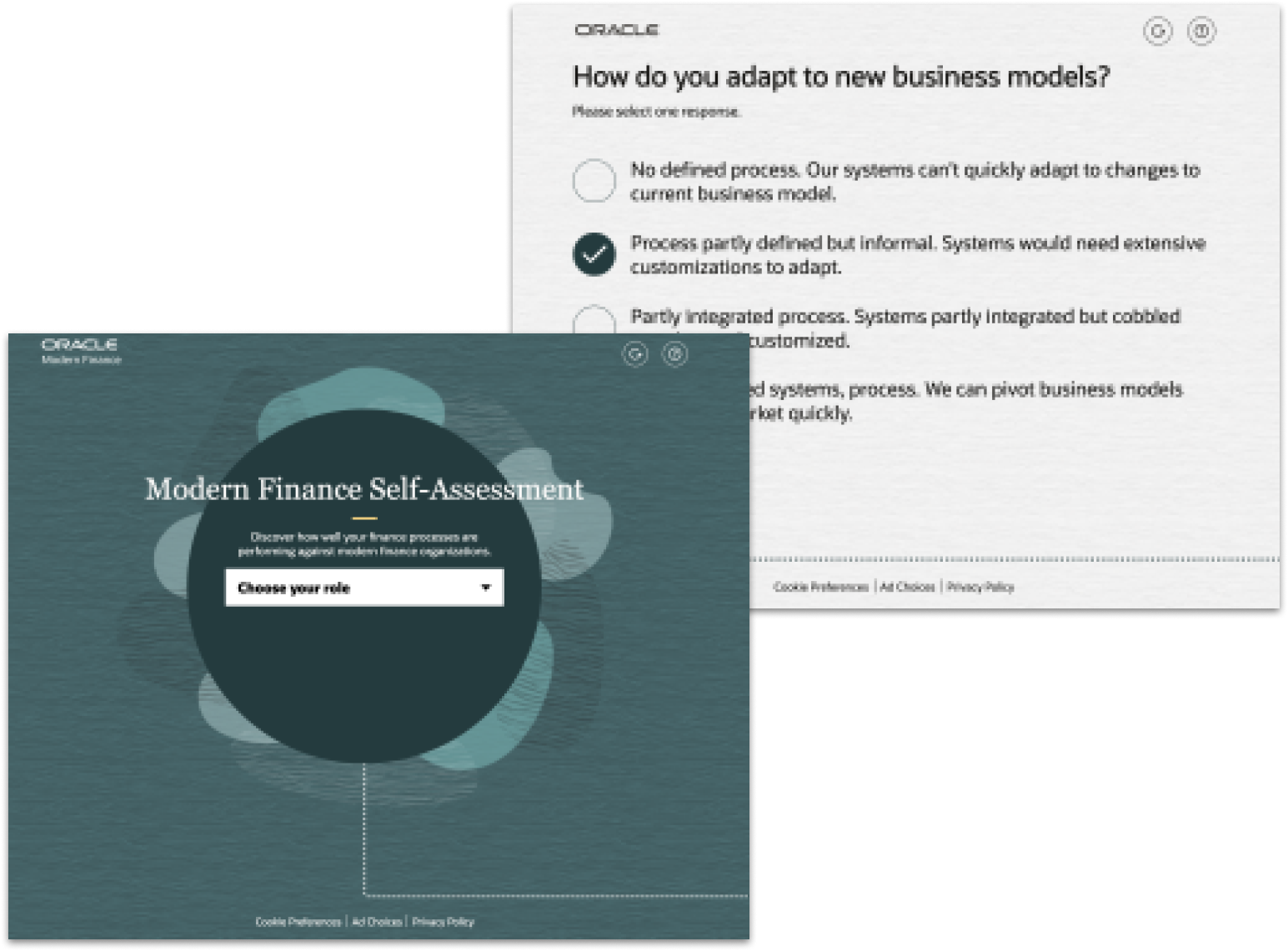 Pain Points
The external Agency did a great job to translate all the information from the marketing team to the interactive tool.
But wasn't hitting the vision of the marketing team, especially the result page:
Was off brand

Slow loading

Animation didn't work

The graph was to simply

Not showing Oracle's products

Weak CTA

No peer comparison
Goal #1
Help to boost leads for Oracle's sales team, offering valuable customer insights, through user engagement and fueling Oracle's sales growth, while also providing valuable feedback to enhance marketing strategies.
Goal #2
Spark interest and encourage users to gain a deep understanding of Oracle's products and services through an engaging and exciting tool.

After a lot of research talks with the stakeholders and the agency, we started to collaborate together...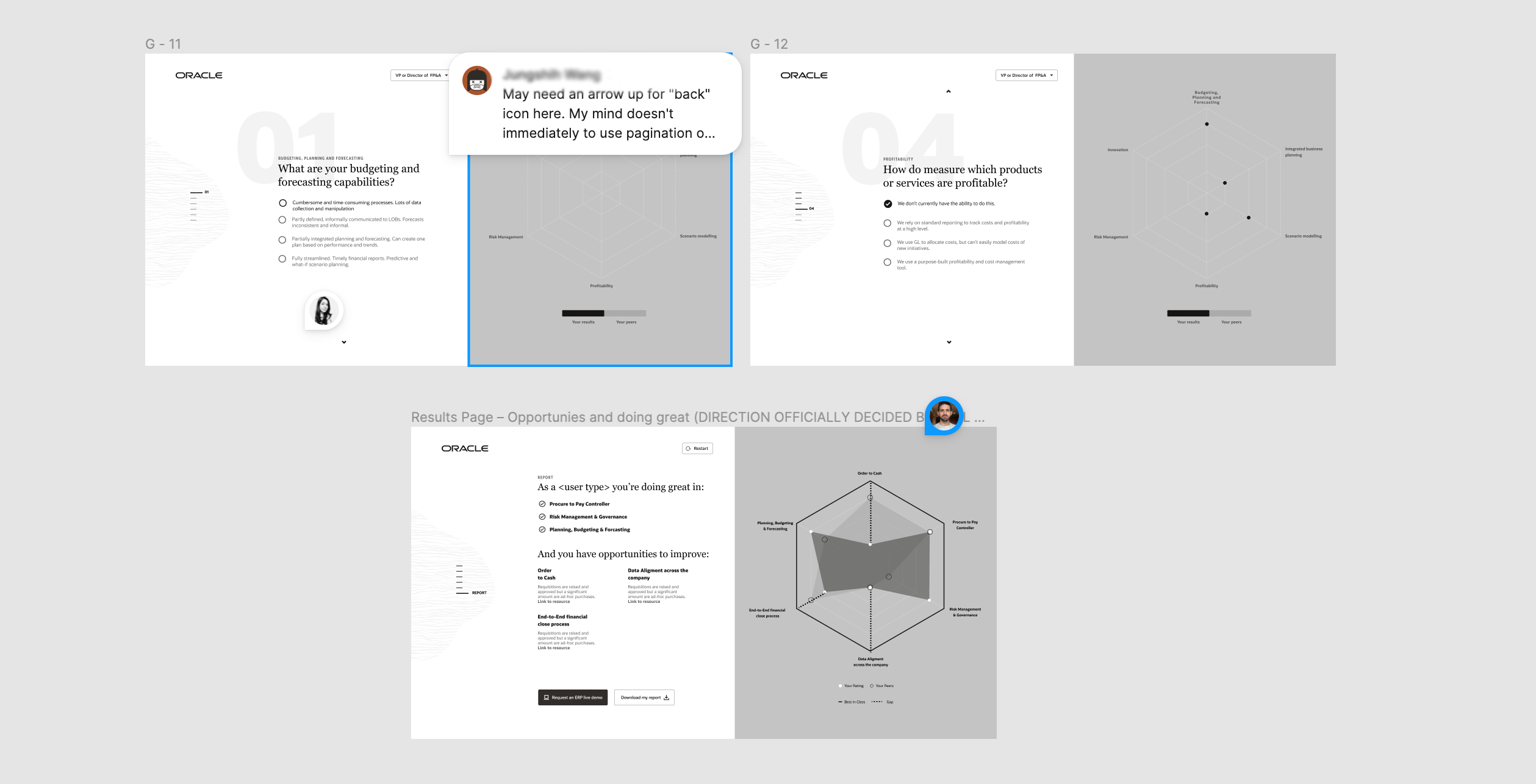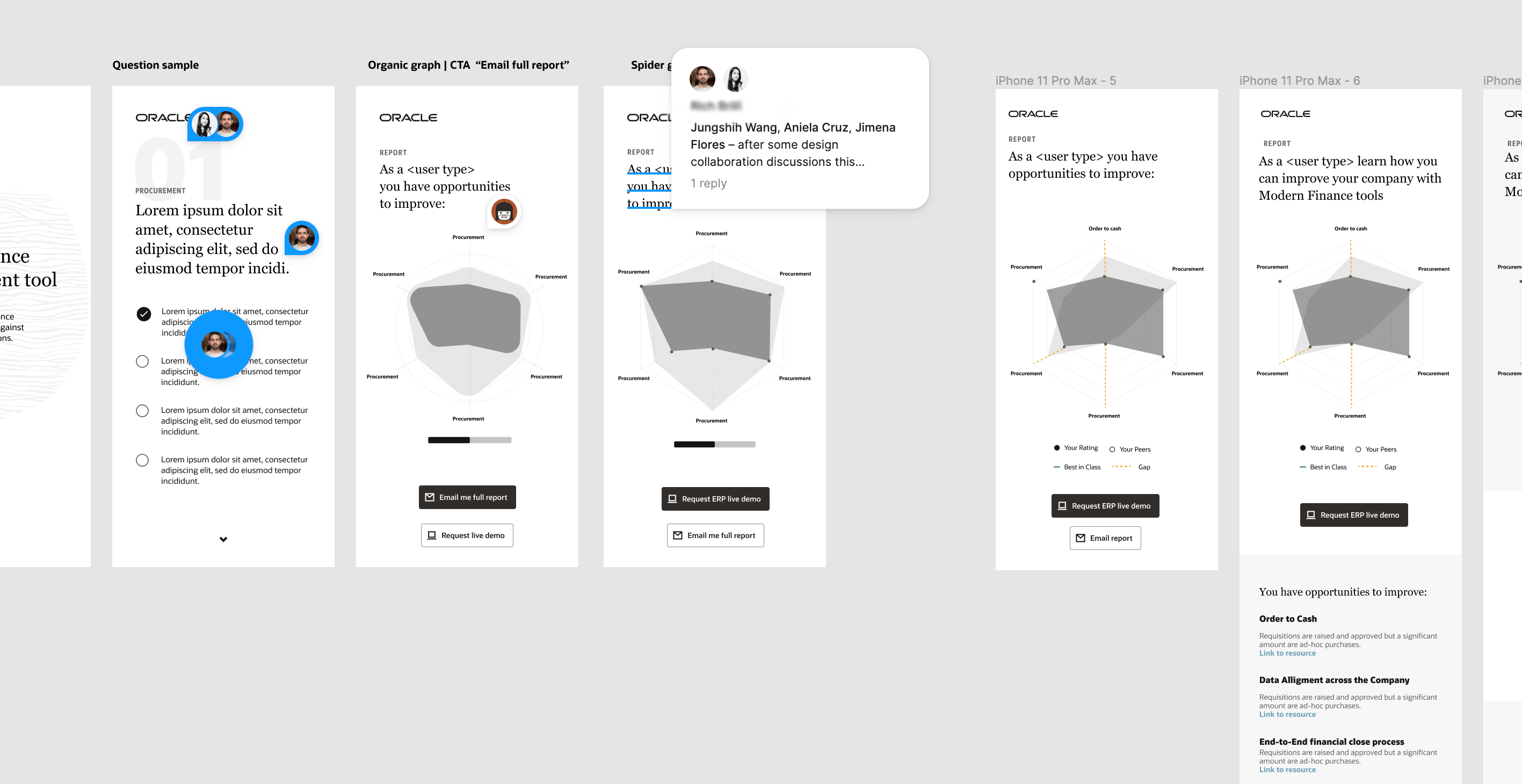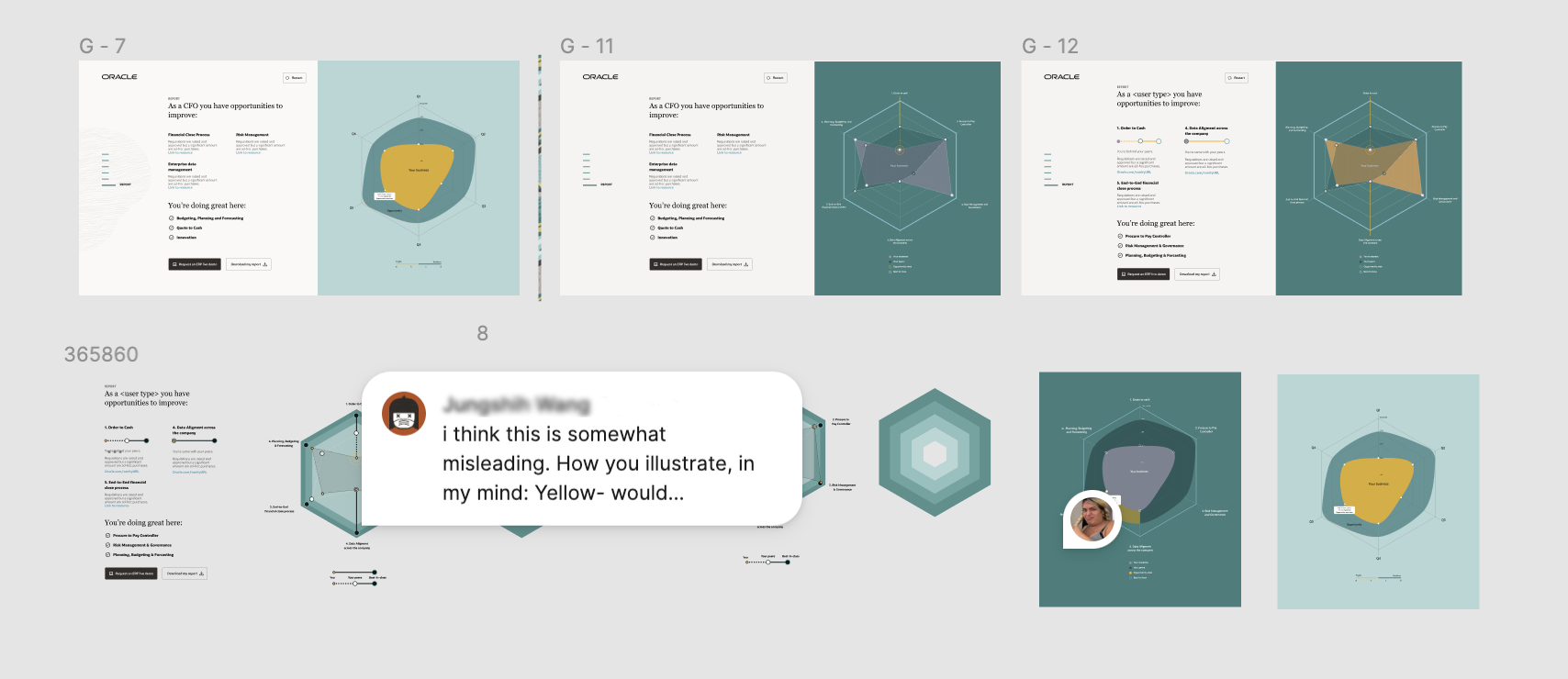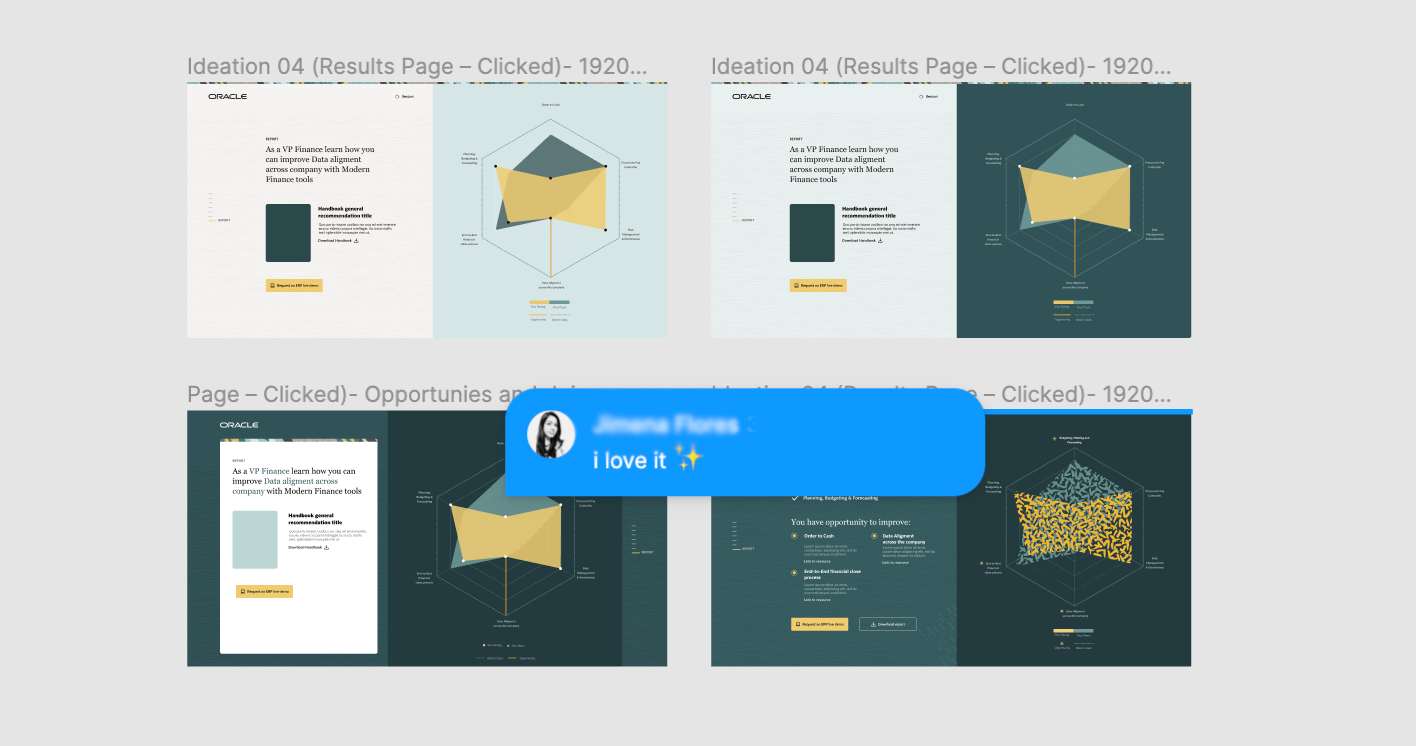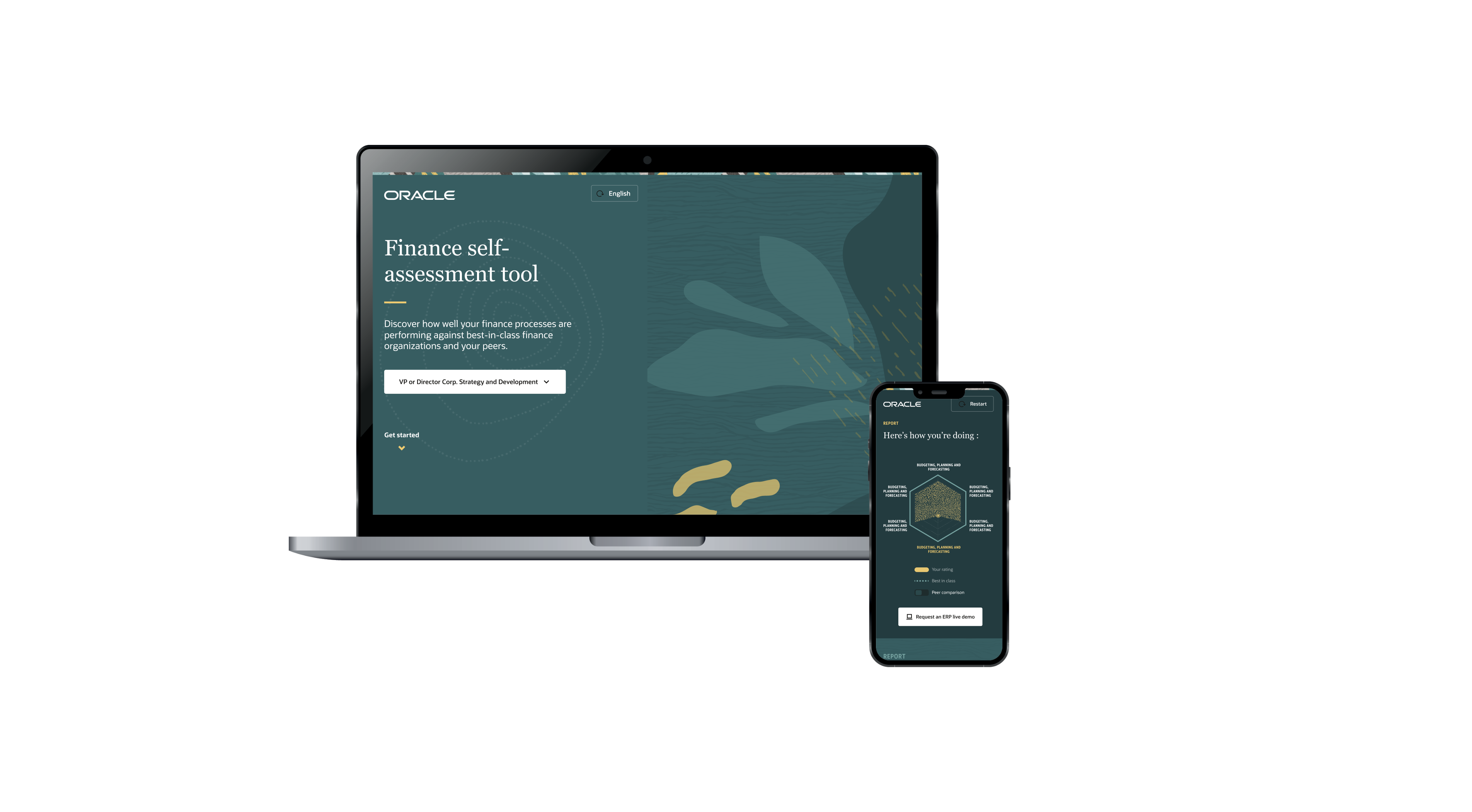 Final thoughts
I really enjoyed my experience on this project; the seamless collaboration both within our team and with the external agency truly shines through in the outstanding results. Upon delivering the design, the agency brought it to life, and later we found out that the tool found widespread adoption across various industries and products within Oracle's marketing campaigns. So far it's been replicated for CX, HR, JAVA, and OCI, so it was a big success for us!